What is new at Dundee Satellite Station Ltd
Here we occasionally write about things that are happening that we hope folks will find of interest!
---
Fibre Broadband Operating (10 May 2022)
Our ISP completed the hand-over of the fibre circuit to us complete with identical IPv4 block to the previous microwave link. A quick check of the speed on a laptop using a wired connection showed impressive results with speeds above 480 Mbit/sec in both directions and a surprisingly low ping time of 3ms to the closest Ookla test server in Edinburgh.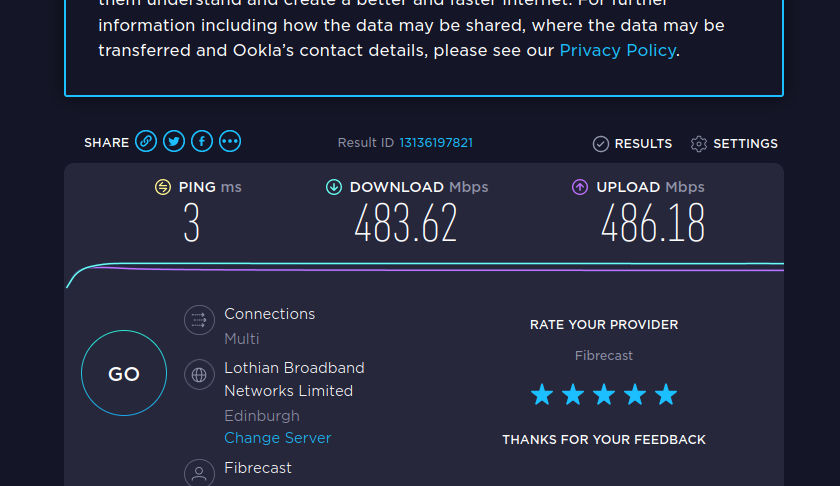 ---
Fibre Broadband Almost There (06 May 2022)
Well today we finally had the fibre optical circuit completed at the equipment powered up. We are still not there, it has to be commissioned by Openreach first then handed over to our ISP, but at least we have some signs of progress!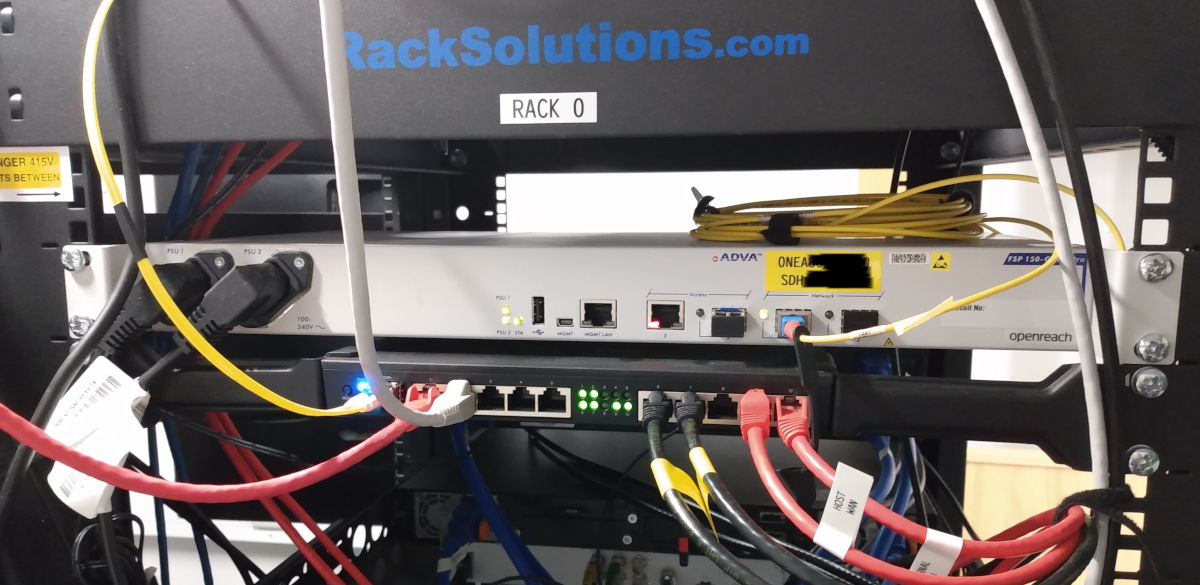 ---
Storm Eunice (18 Feb 2022)
Unusually for the UK we had red danger warnings for the south of England during storm Eunice and with good reason:
winds of 122mph were recorded and 3 people sadly died
, as well as damage to power and communications. Again we were very fortunate to see little impact, just some wet snow and medium winds. Below is the image from METOP-C over the UK at 10:30 on Friday 18th showing the storm's progress with the clear strip over London looking benign but actually having seriously high wind speeds: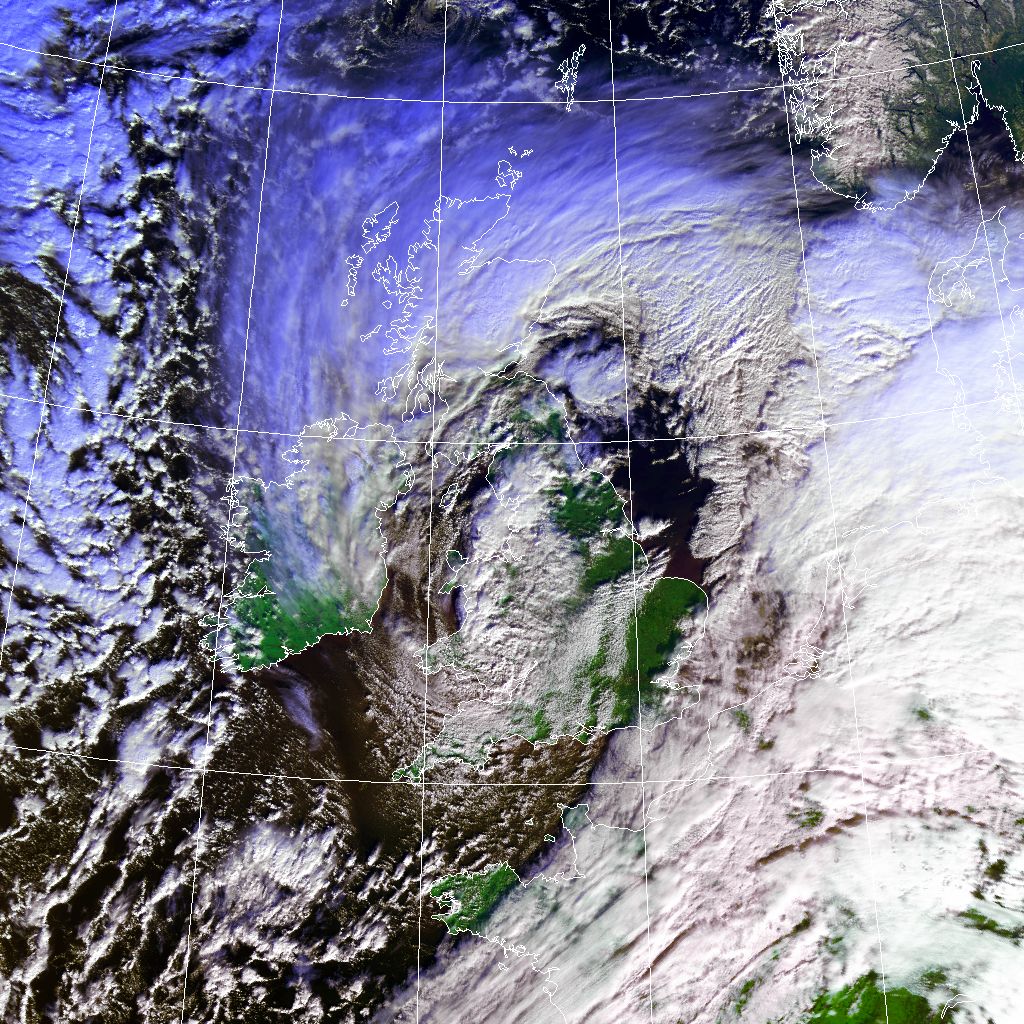 ---
Fibre Broadband Approaching (09 Feb 2022)
These days having an Internet connection is a must, and it is hard really to imagine the time when it was rare or indeed non-existent. However, we do remember as the old DSRS existed before the invention of TCP/IP and the availability of the WWW! At that time computers were generally connected together by serial lines (typically RS232 or RS422) or by parallel bus systems of generally propitiatory nature. For example, for a few decades we supported data transfer in to our computers using the old DEC DR11W standard, later supported on Sun workstations and PCs via 3rd party cards. At this time we delivered data to end users either as photographic prints or by computer tape by post.
By late 1980s we were using a combination of Sun workstations and PCs network internally with the "yellow spaghetti" 10BASE2 network using coax cable which was less than ideal as both the network drivers for the DOS/Windows PCs were rather unstable, and also the CSMA/CD system dropped efficiency when busy and a cable fault anywhere took down the whole lot. Thankfully by the 1990s we were on 10BASE-T networking internally, using the twisted pair cables and switches, just as most would recognise today. While it meant a massive increase in cabling it was also far more stable and efficient, and we also had a connection to JANET (joint academic network) that gave us considerable (for the time) bandwidth to transfer data to user over the Internet. However, it was a few years before some of our users were able to handle the volumes of data delivered by satellite so tape and photographic products continued for many years.
By the 2000s we had all but stopped tape & photographic products and delivery by Internet was normal. However, we were in the luxurious position of having the upgraded JANET connection which provided amply low-latency bandwidth. When DSS Ltd set up at Errol it was a bit of a reality-check when it came to getting a connection outside of a big city. Basically, it sucks!
We only had one realistic choice to begin with, to get a microwave point-to-point link by the local ISP
Fibrecast
. They have proven to be excellent in service, but still a multi-hop microwave link has practical limitations that are difficult or impossible to overcome. First of those is bandwidth, as that is limited by the spectrum allocated and getting more can be absurdly expensive, second of those is latency as the data is routed around multiple hops (most delay in the equipment, not the light-time), and third is the impact of bad weather on the links (including equipment damage).
But now we are close to the end of the Sisyphean task of getting fibre to our premises to have sufficient speed for both our own plans for Earth Observation data and to satisfy what customers are requesting (such as 300Mbit symmetric). It has taken a total of 1.5 years and 3 orders (first two with another provider had to be cancelled as undeliverable in any realistic time-scale or cost, even the third had to be re-surveyed to get round way-leave permission problems) but we just had the fibre brought though the 0.5km of duct we installed ourselves. We are grateful to Fibrecast for the final success of the order for fibre with them!
What is surprising is how small a 12-way fibre cable is compared to the standard 96mm duct that Openreach and other telecom companies specify (see below). But still there is a 50m or so overhead route to be installed to cross the public road, and the various fibres joined, so it will be a short time yet before we can test it and then migrate our network to use it.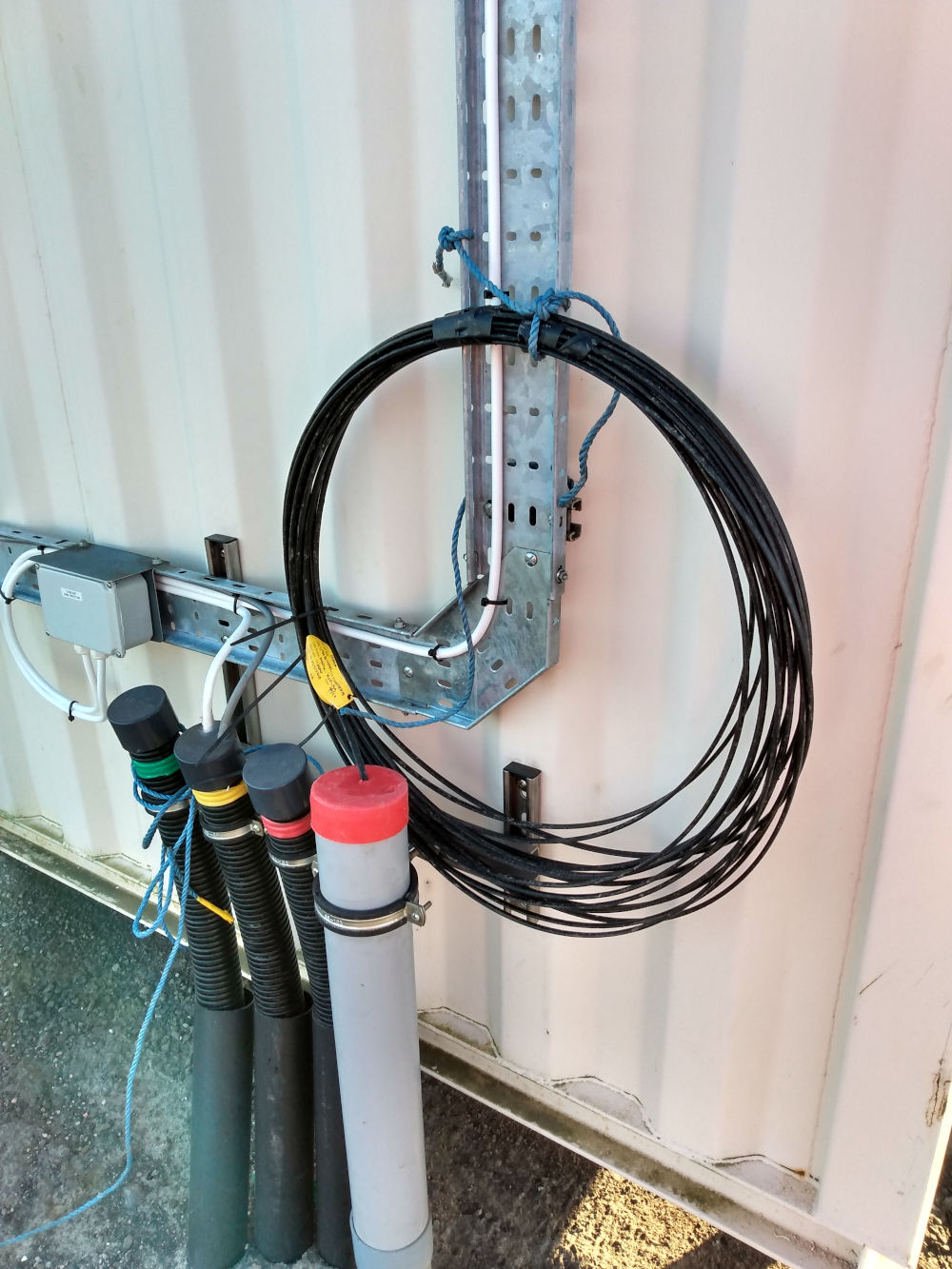 ---
Tonga Eruption (15 Jan 2022)
The
2022 Hunga Tonga eruption and tsunami
caused terrible damage and loss of life to the pacific island. Unfortunately we did not collect the usual image data as direct broadcast is beyond our horizon and we have not yet resurrected the geostationary relay service we used to run. However, one of the founders of the original DSRS station, Dr. John Brush, has high time resolution recording of his own weather station and it shows the iconic pressure wave that traversed the Earth and reached the UK almost half a day after the main blast. Unfortunately our own weather station data is only recorded in 30 minute summaries, so that sort of detail was lost!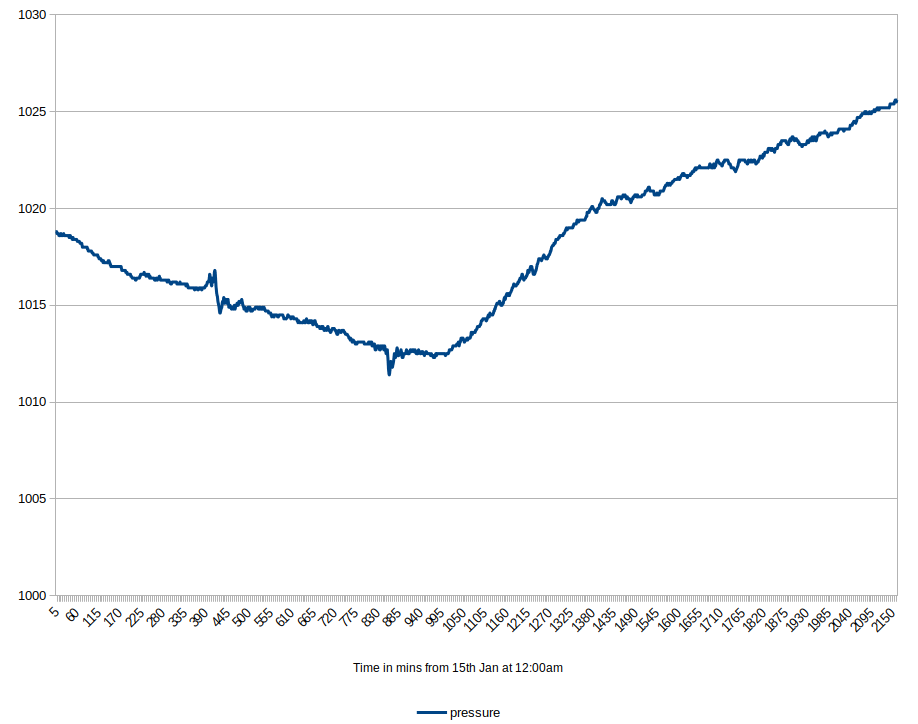 ---
Round-Up of 2021 (31 Dec 2021)
Although we had the 3.7m and 2.4m Az/El antennas running by late 2020, it was 2021 that marks first year of any real operations at our new Errol site. During 2021 we resumed some live Earth Observation data generation and access to the site's weather station. We also completed the renovation of the two 2.8m X/Y antennas, but it was only at the very end of the year that we had 4 antennas all tracking again.
We had some extrema weather as well with the exceptionally cold day in Feb at -14C, but we were spared the worst of Storm Arwen with our site suffering only minor damage to fencing and flood lights and no operational interruptions. Also of note was the final image for METOP-A after its 3.5 billion km service life.
Looking forward in to 2022 we hope to finally get fibre broadband to the site by Feb which will help us and our clients with faster and more reliable data access, and to build on our capabilities with more RF, EO, and R&D projects. Restoring access to our archive of data is still on our to-do list, but we are finally seeing it become possible.
We wish all of our supporters and customers the very best for 2022!
---
Antenna #1 Sun Tracking (10 Dec 2021)
After many delays, largely due to other work taking priority, today we got the RF electronics connected up to Antenna #1 (currently a 2.8m X/Y mount) and started the process of calibration of its pointing direction using the Sun and the Moon as targets of accurately known position that produce a small but detectable level of radio noise. After the first calibration point it was sufficient to track NPP & Aqua to demonstrate the data ingest side is working, but it will take another 24 hours or so before we have sufficient points to accurately characterise the mount.
The photo below shows this along with the #2 antenna in the background. As we were fortunate to have a sunny day in December you can also see the shadow of the Cassegrain sub-reflector aligning with the feed.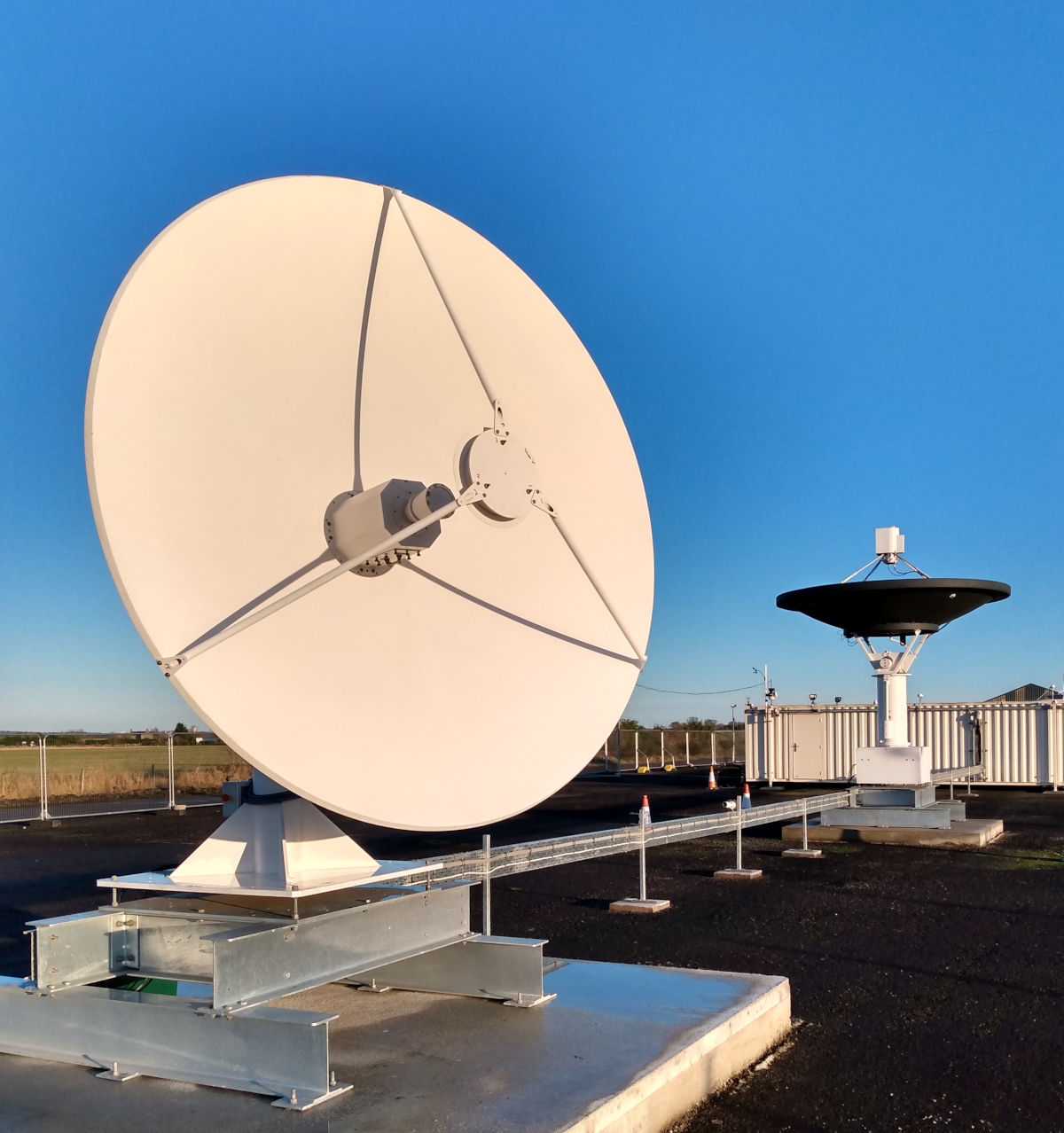 ---
Storm Arwen (26 Nov 2021)
The UK, and in particular the north-east cost, was battered by storm Arwen on the evening of the 26th and through to the early morning of the 27th with wind gusts reached speeds of 98mph in Northumberland. This caused
extensive damage and disruption to transport and electricity
including the
tragic deaths of 3 people
.
Our site was spared the worst of this, we recorded a maximum of 51mph wind gust, but we still suffered minor damage to some temporary fencing and the very unpleasant overturning of the chemical toilet (which we will spare you the sight of). We did continue tracking without incident, though our UPS did note several power glitches, and we received several images of the storm, for example, this image from NOAA-19 over the UK at 18:30 on 26-11-2021: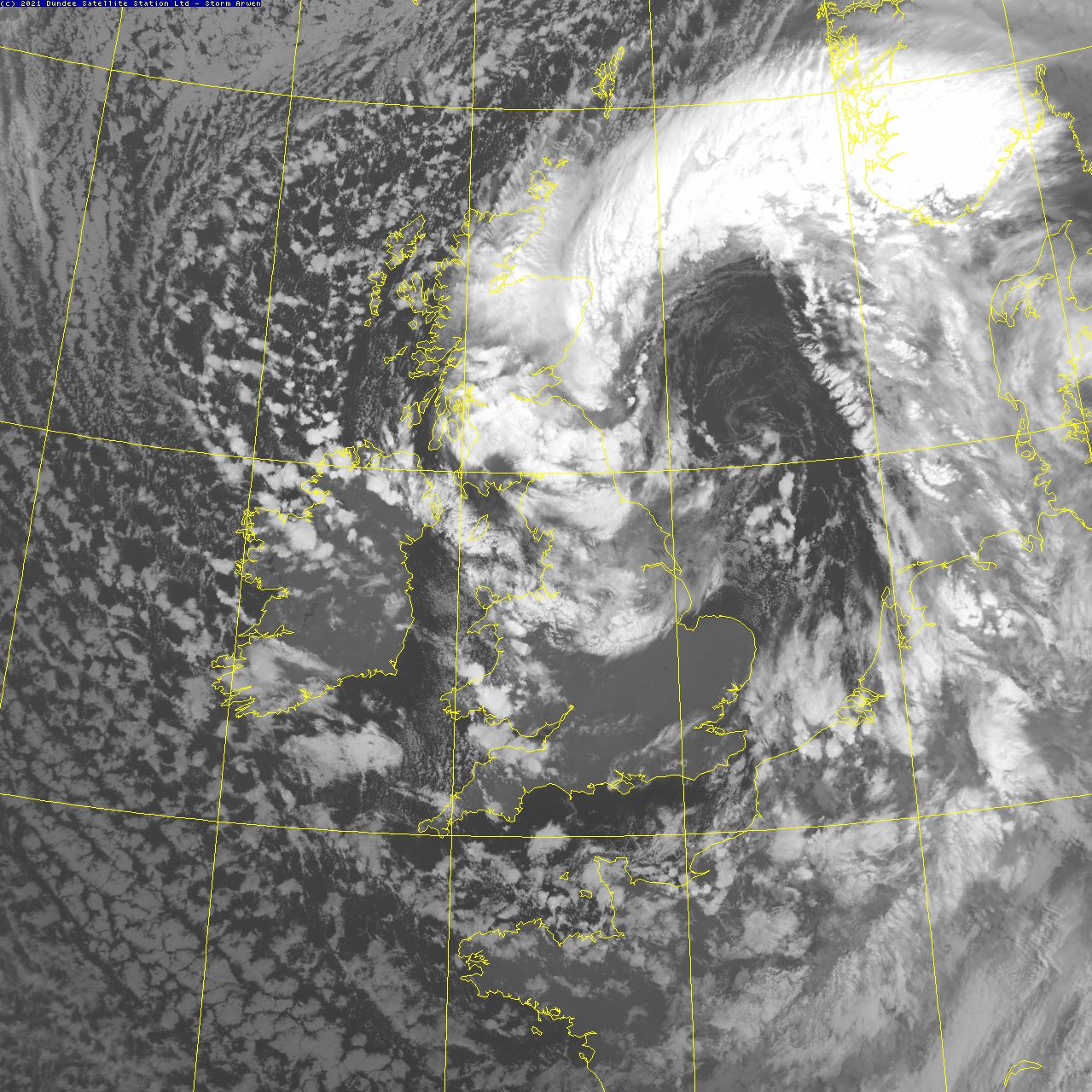 ---
Final pass from METOP-A (15 Nov 2021)
In our previous incarnation as DSRS we took the first pass of METOP with the AVHRR instrument running on the 25th Oct 2006 and when it became operational. Due to problems with the transmitter High Power Amplifier not being adequately radiation-hardened they decided to only use the L-band direct broadcast service on south-bound passes over Europe below 60N to speed delivery of the data, relying on the on-board recorder and X-band data dumps for the remaining services.
This resulted in no METOP-A operations over Antarctica. This was disappointing as we had upgraded the British Antarctic Survey's reception system at the Rothera base (build by us in 1992) with new computers and a receiver capable of METOP operation. Later the METOP-B and C would provide support in that region.
Eumetsat decided to decommission METOP-A so it could be responsibly de-orbited while it was still in a commandable state, so various systems have been shut down and today was the final day for direct broadcast of the AVHRR instrument. Below is a false-colour RGB composite (1k x 1k size) of its final pass, overhead (maximum elevation) of our site at Errol at 07:45:51 on 15-11-2021 after 78217 orbits of the Earth and having travelled around 3.5 billion km in its 15 year operational life. You can also get a
larger 4k x 4k version
to scroll around.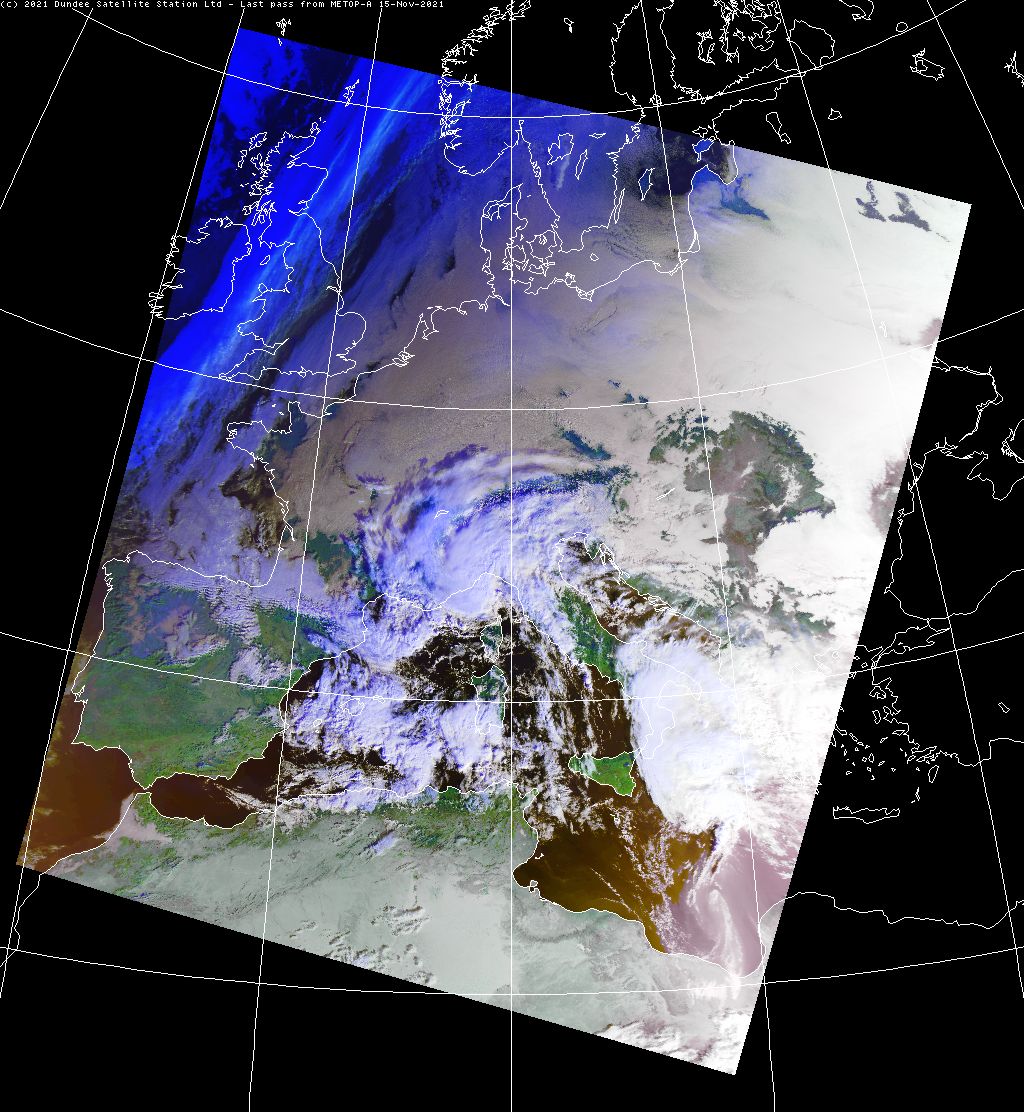 ---
Fourth Antenna Lifted to Plinth (04 Nov 2021)
After some testing on the ground, the fourth antenna planned for our site was lifted on to the #1 plinth with the help of a local farmer's workman and a large telehandler. Again, we were really impressed by the skill and control he had over such a bulky machine!
Of course we still have the reflector and RF equipment to do, but it now means we have the four antennas planned for phase one of the site in their intended positions and wired for tracking operations. After further testing with the RF system in place we will be in a position to start using it, or modifying it for other use.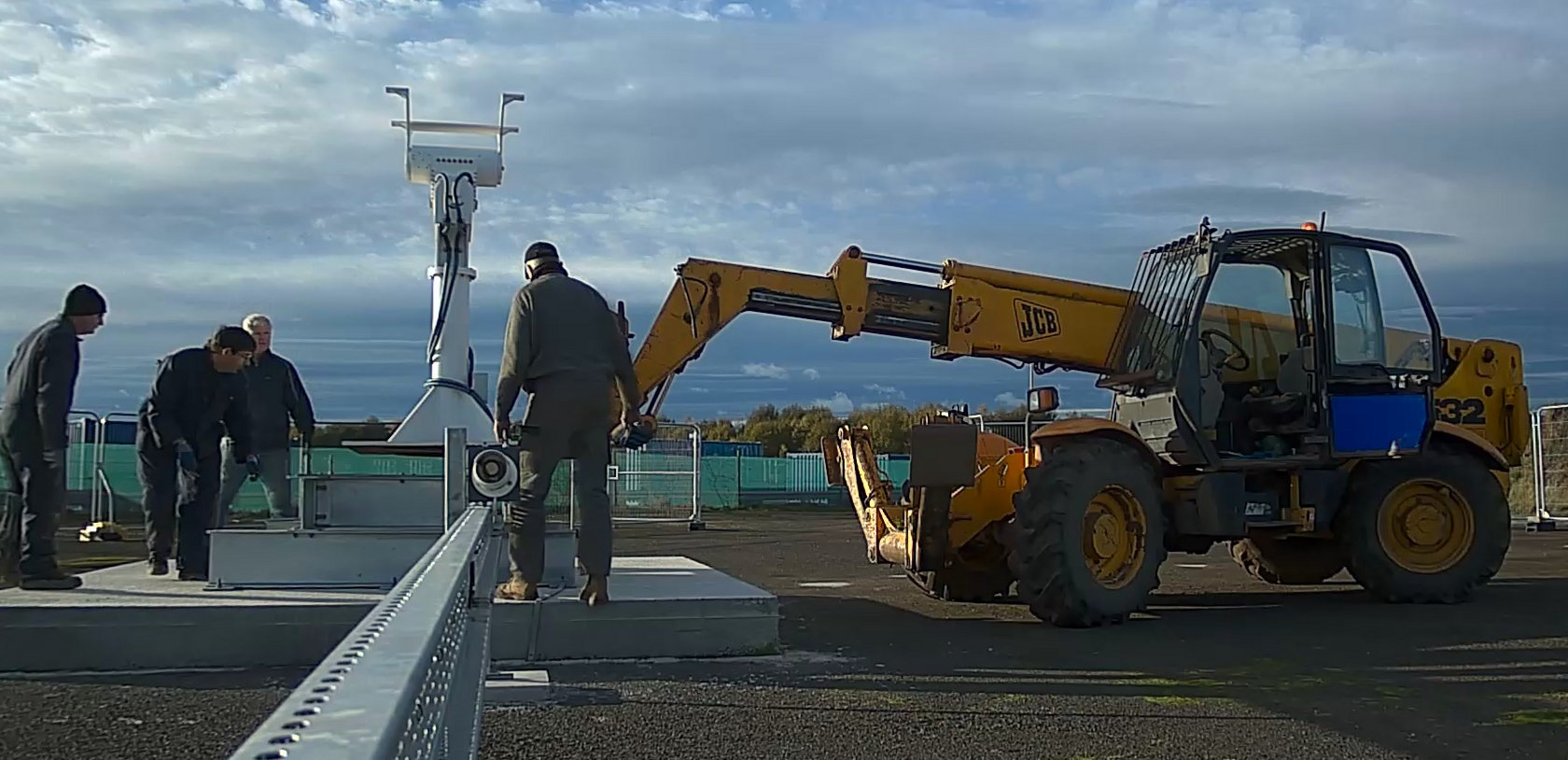 ---
Fourth Antenna Under Test (14 Oct 2021)
The 4th antenna planned for our site is now being tested for basic operational stability before we get it mounted on the final plinth. Hopefully we will be able to do that in the next week or two and then we can test it for real with the reflector and RF equipment reinstated.
Most likely this antenna will be modified after performance testing is completed so it better fits what we are seeing demand for, but that is a story for another time.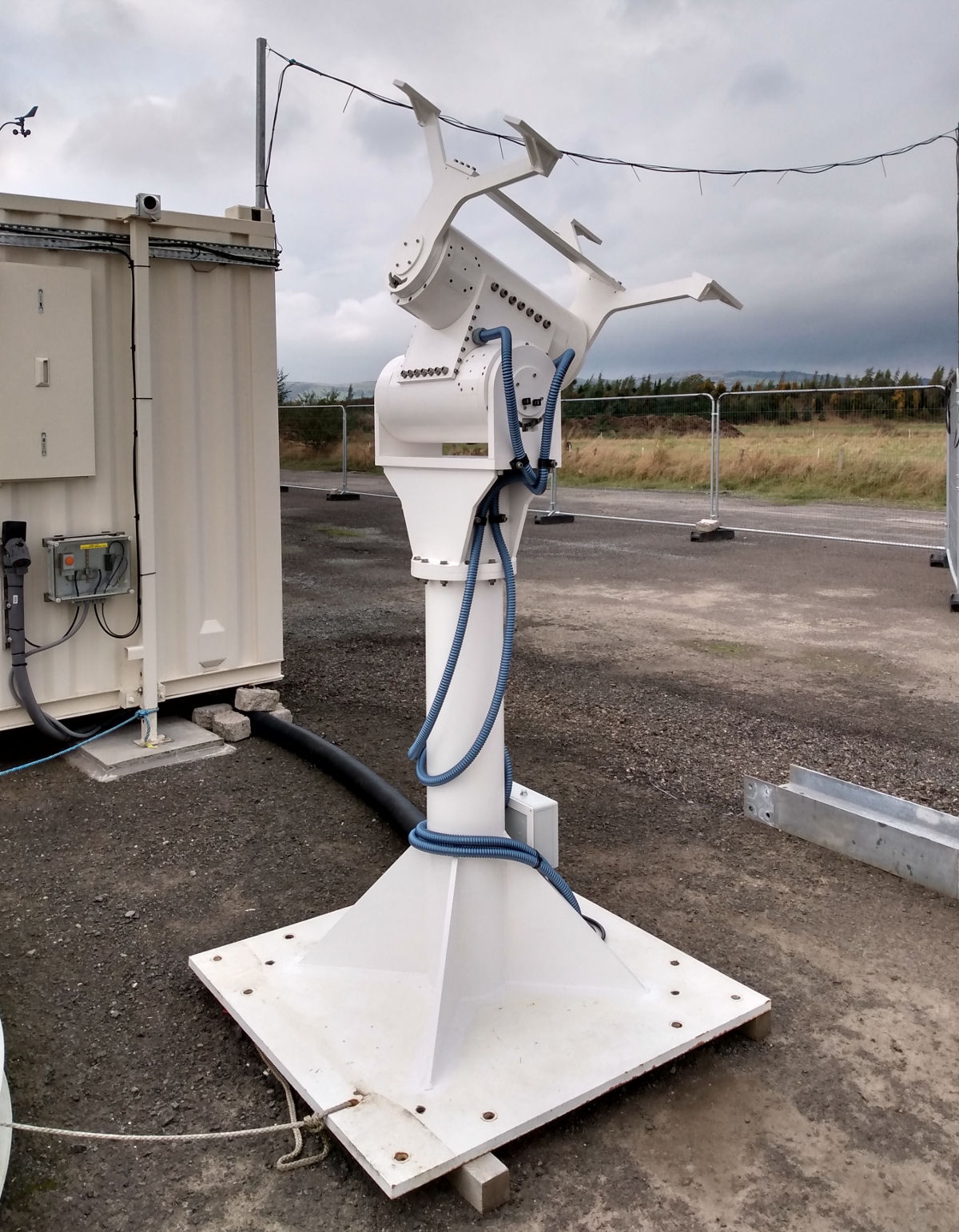 ---
Volcano on La Palma (23 Sep 2021)
Our coverage area only just reaches the Canary Islands, but we noticed this image showing the heat of the volcanic eruption of Cumbre Vieja in the CH3 infra-red band of the AVHRR instrument. This was taken by the satellite NOAA-19 on 23 Sep 2021 with the satellite overhead of our Errol site at 19:28:42
It is a common convention that IR images are shown with black=hot and white=cold so clouds appear as white against the warmer background of the land and sea. Here the heat of the volcano is obvious as the darkest spot in the image. The AVHRR instrument has limited spatial resolution, around 1km at the sub-satellite point and a couple of km at this view, but makes up for it in radiometric resolution as it can resolve around 0.1C temperature differences.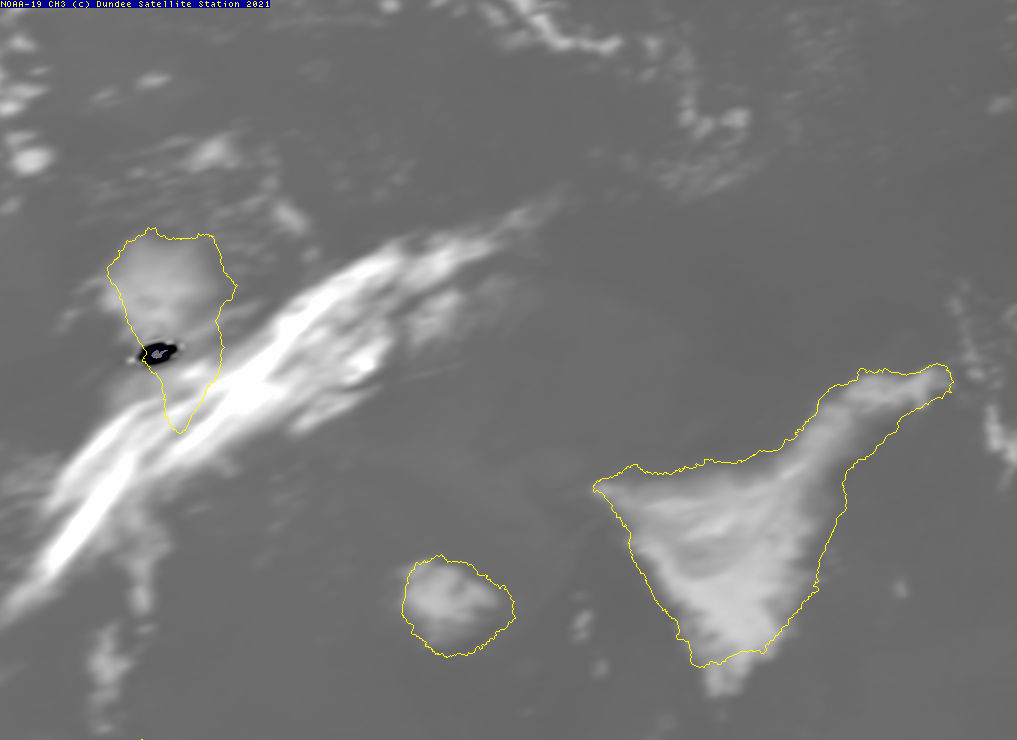 ---
Third Antenna Tracking (13 Aug 2021)
When the worst of the weather passed we were able to get the reflector, sub-reflector, and feed installed on the refurbished antenna on plinth #4 by the 12th and then some preliminary testing was done. On the 13th when this photo was taken we had successfully received X-band data from Terra, Aqua, NPP, and NOAA-20.
We still have some minor cleaning-up jobs to finish and the current cables are temporary ones made up from lengths of cable recovered from the old installation, so they also need replacement. However we are further down the road now towards expanding the range of Earth Observation data we can gather.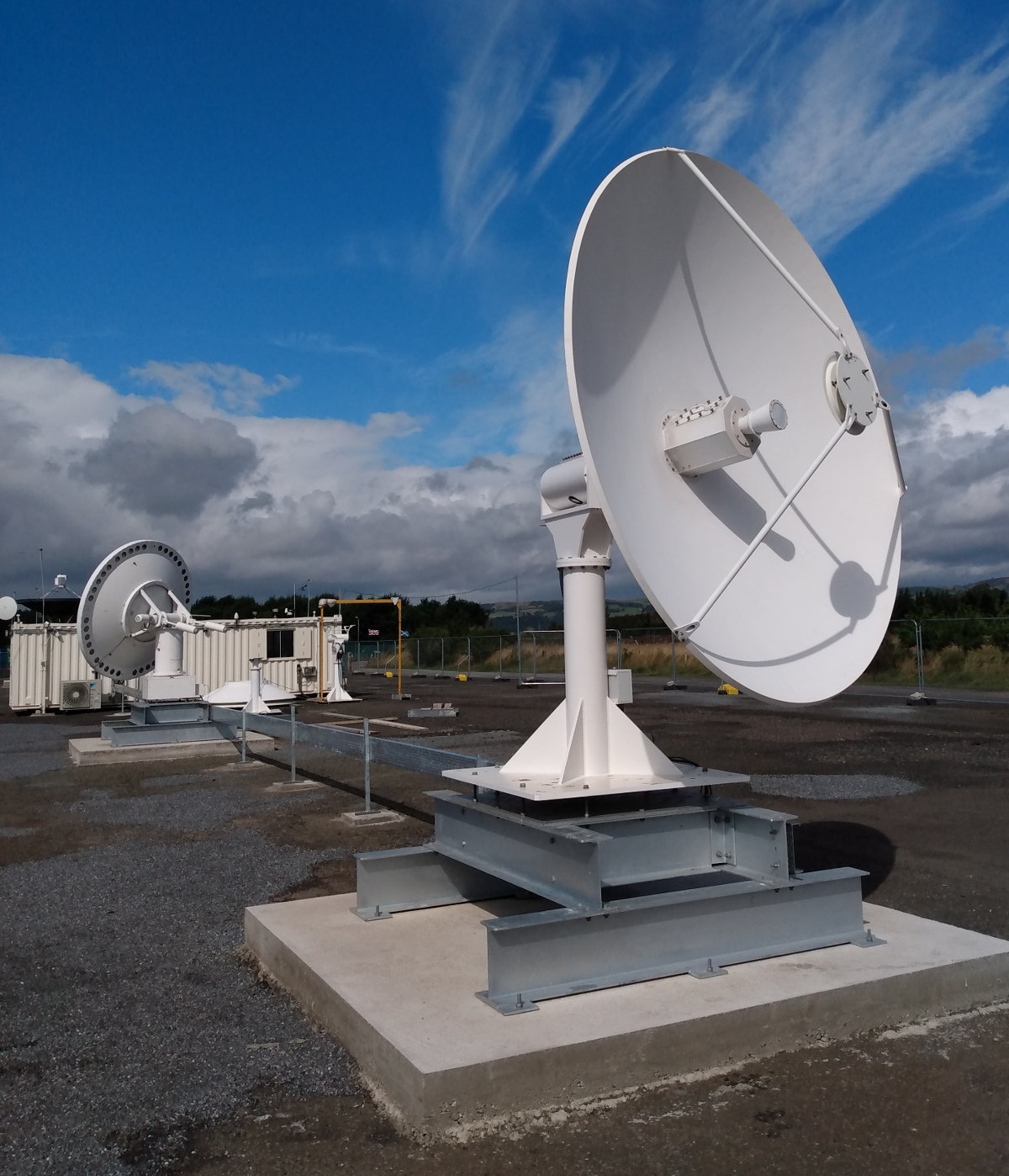 ---
Antenna on Plinth #4 (05 Aug 2021)
The newly refurbished X/Y mount has now been lifted on to the #4 plinth position with the help of a local farmer and his amazing skill in using the telehandler, bringing the total of antennas ready for real-world use to 3. We still have one more antenna to refurbish for this site which will end up on the #1 plinth location.
Before we can actually use it we also have to mount the 2.8m reflector and RF feed, as well as performing precise pointing calibration, but with any luck that can be done in the next week or so. While the weather was great for the actual lift today (shown below just after completion) we now have a thunder storm warning for Errol so further outdoor work may be halted for a while.
Once this antenna is running it will initially be tested on the X-band weather satellites. Longer term it is likely to continue with those duties to some degree or another. Generating images for our web site from this data hopefully will follow soon as we try to get the processing systems back in to operations once more and, as before, it is our intention that free access to many of these products will continue.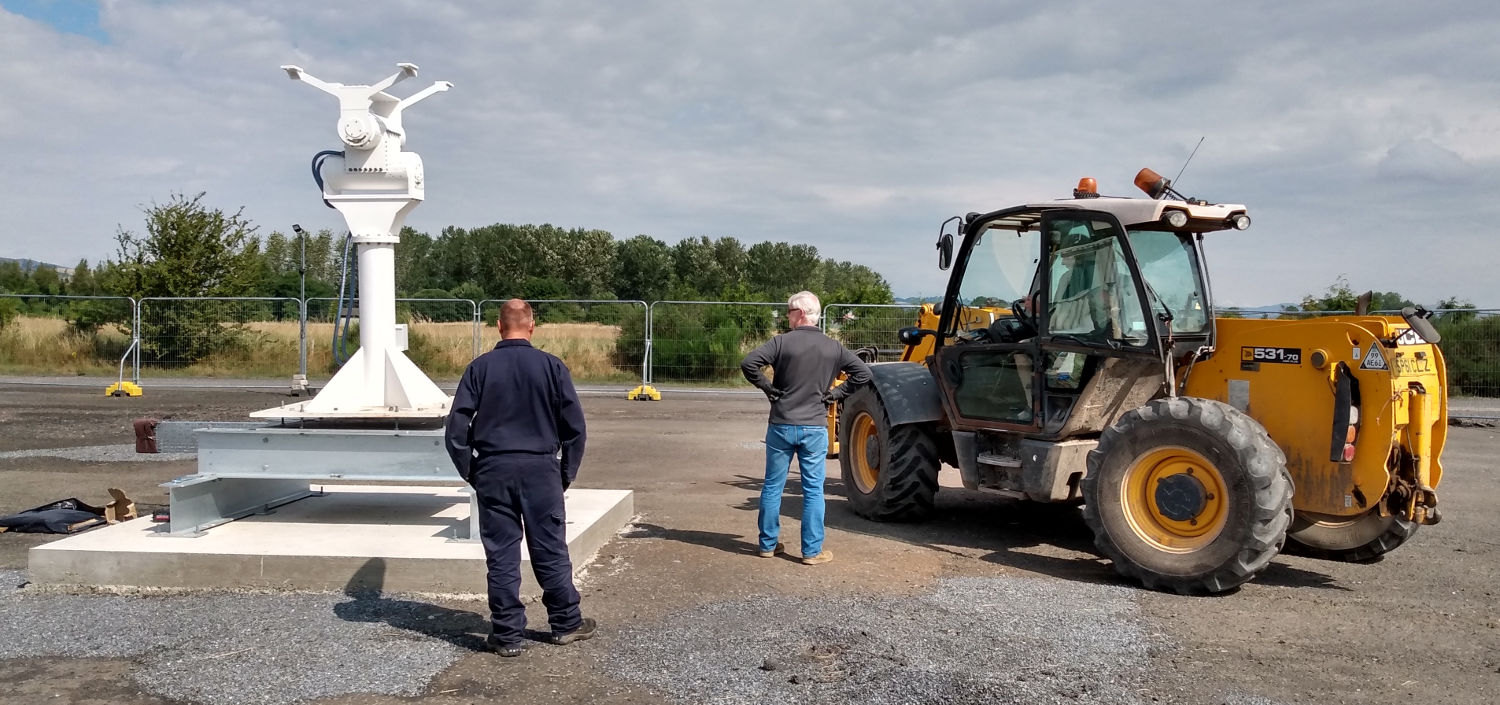 ---
2nd Birthday (24 Jul 2021)
DSS Ltd has now existed for two years and during that time we have continued to work on the new facility at Errol and the wider process of bringing back access to the environmental data, both new and historical.
Currently we are assembling the 3rd antenna following its refurbishment and hope to have it operational within the next month, before moving on to the 4th antenna.
---
Long Wire Antenna (21 Jun 2021)
With the Euro 2020 football on after the year delay due to COVID-19 listening to it on a mobile phone in the laughable "loudspeaker mode" not going very well we decided to install a temporary AM antenna and break out of retirement a Lowe HF150 radio for decent reception on the MW bands (the radio covers 30kHz to 30MHz though).
The HF150 was a remarkably good radio for its price, the product of a talented designer (John Thorpe) and made in England in the 1990s. Sadly production stopped a decade later for a number of reasons (including Plessey stopping production of the SL6440 high linearity mixer IC) and interest in LW/MW/SW broadcast reception has plummeted over the last couple of decades due to internet access to news and music and very high levels of radio noise in built up areas (in spite of the EMC directive's goals).
Still, it is nice to hear the radio in use again and sound is remarkably good. You also hear the background cracking noise when there is a lot of lightning storms over Europe!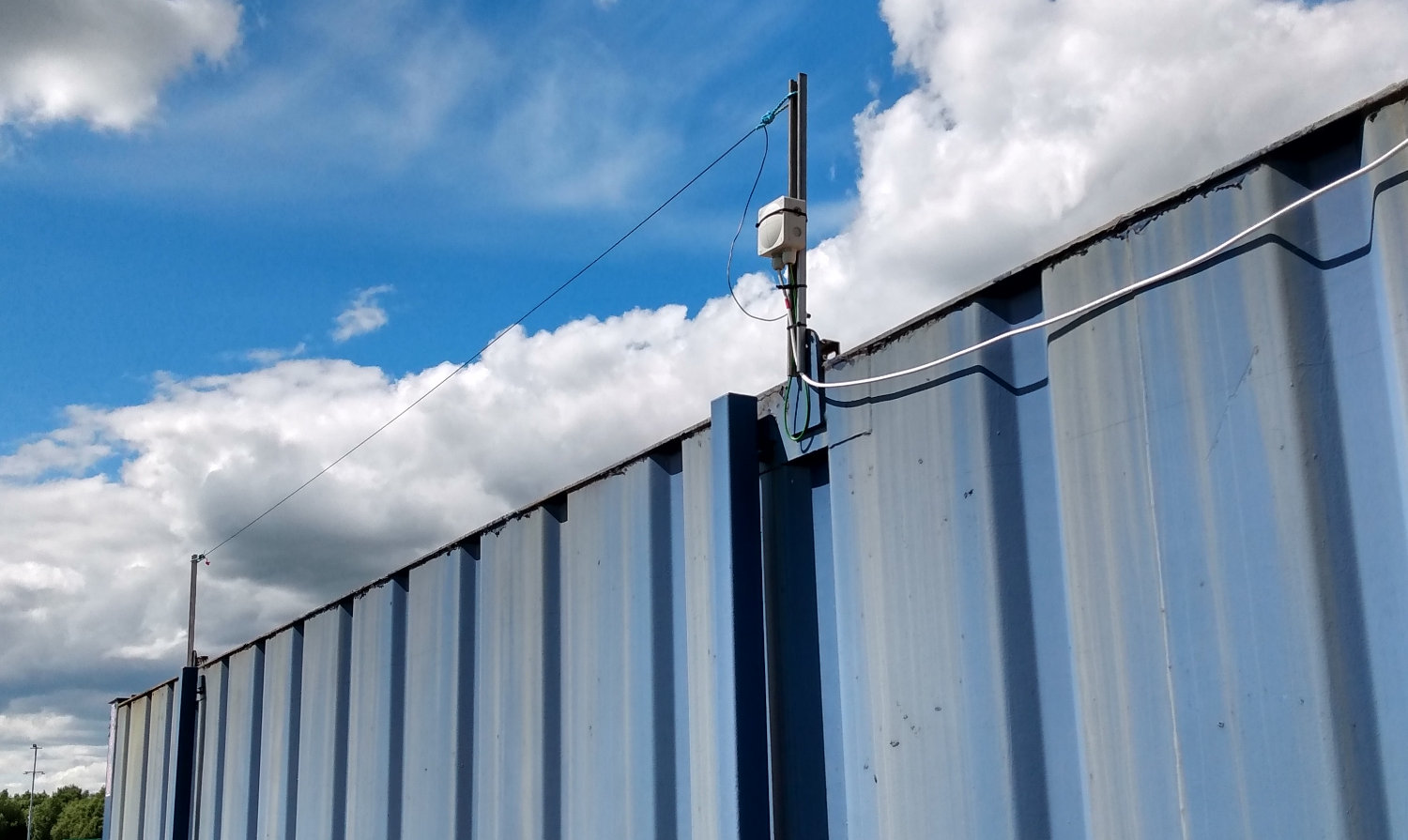 ---
New Web Site (18 Jun 2021)
We now have a new-look web site with the help of
Lance French
.
---
False Colour Images (12 Jun 2021)
We now generate
false colour
composite RGB images from the
AVHRR
data in our
Latest Images
section. These make use of the two "visible" channels of reflected sunlight along with ones of the infra-red channels of radiated heat to provide a false colour representation of the Earth's surface. In this case it is the best that is practical as the AVHRR scanner lacks "true colour" (i.e. channels that match the human eye's perception of light) so the results always look a little strange.
Another issue with the false colour images is the behaviour at night time, as they are based on
histogram equalised
images, and at night the visible channels become a noisy grey plane, confusing the results. However, they are still a very convenient way of visualising multi-spectral data and using the human sensitivity to colour to highlight features of interest.
---
Hottest Day since Dec 2020 (04 Jun 2021)
Our weather station recorded 18.9°C, marginally beating the best since we put up the weather station in Dec 2020 which was 18.8°C on 18 March 2021.
The coldest remains -14.8°C on 11 Feb 2021.
---
Clearing Storm Drains (31 May 2021)
When we were selecting the new site for DSS Ltd one aspect we checked was the flood risk using the maps provided by
SEPA
Unsurprisingly, the former RAF Errol site was not at risk as no doubt they performed due diligence during WW2 as well in selecting the location.
However, one can never assume that the climate is static and for operational reasons the base had good sized storm drains along both sides of the runways. As part of the preparation of the new high-tech space-age site site we had to get our hands dirty doing the first maintenance for 7 decades the old fashioned way with a spade and wheelbarrow to dump the accumulated mud and vegetation.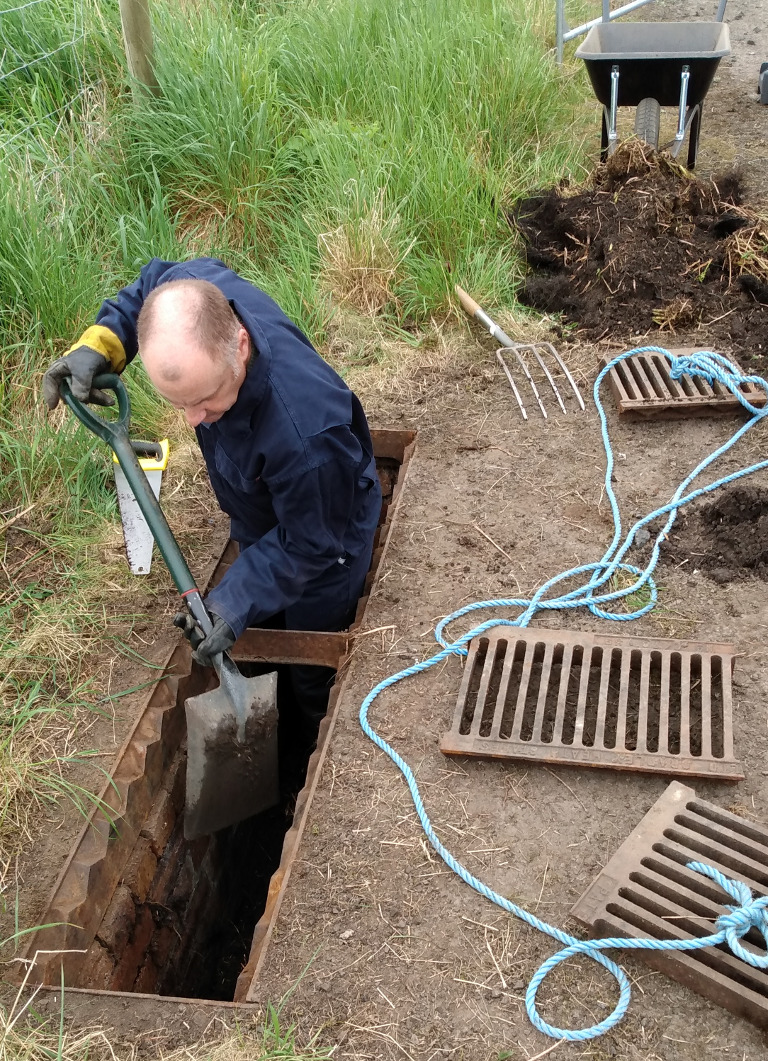 ---
Gearbox Work (20 May 2021)
As part of the renovation of the remaining antennas we have stripped two of them down to clean and service them, replace flexing cables, etc. One aspect we wanted to do was servicing of the gearboxes as they have been sealed up for many years. Unfortunately for us, the company that used to supply the antenna drive trains was bought over in 2018 and gutted of the useful support they provided to us. The only option we seemed to have was to get the UK importer to ship them off for the work, adding to the overall time, cost and unnecessary risk. The antennas use a
cycloidal final drive
and the manufacturer advises against opening them and do not provide instructions to do this.
But how hard could it be?
We decided to have a go with one gearbox that was known to be worn and in need of replacement, so we dismantled it after buying some large bearing pullers. Here is the internal parts in their second bath of paraffin during the cleaning process: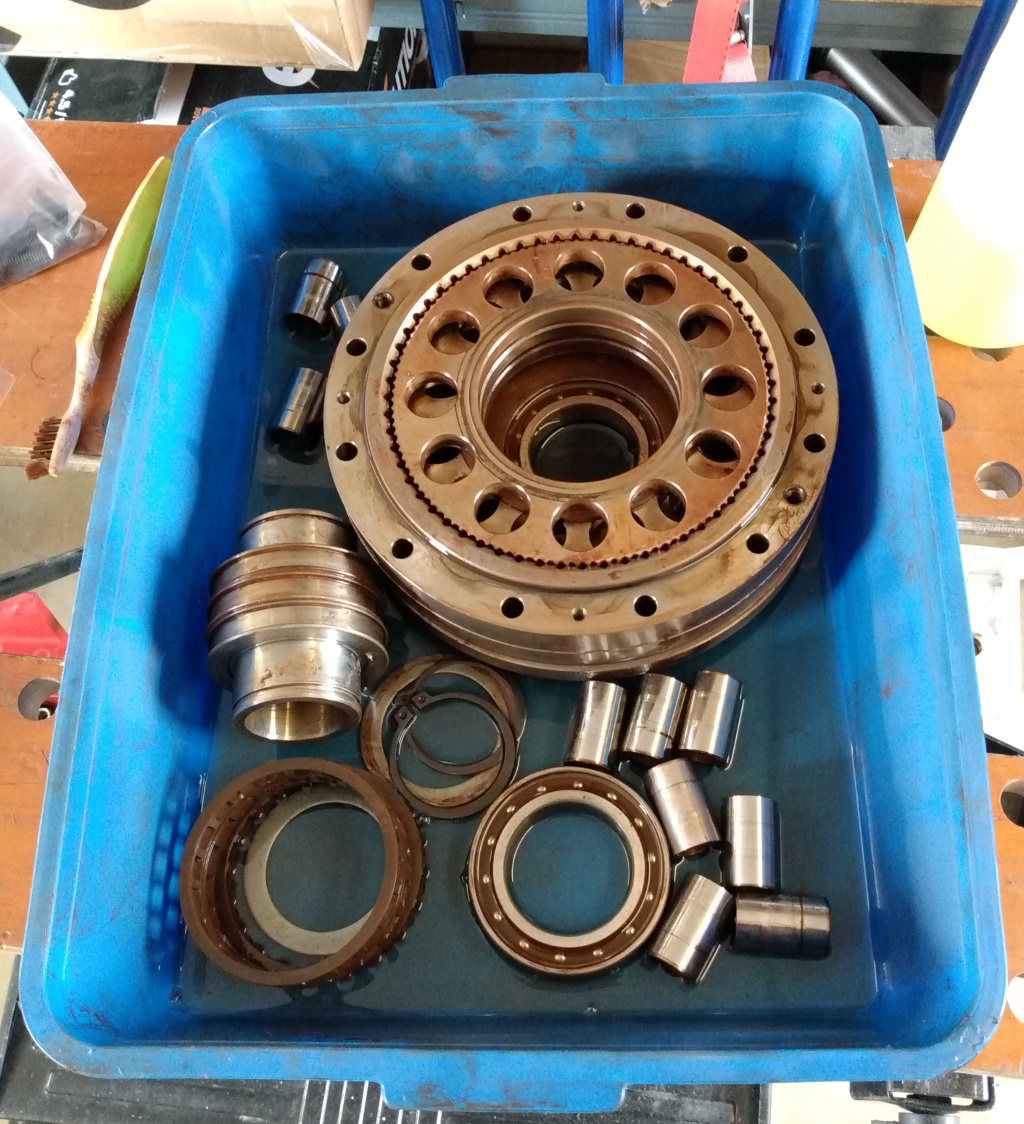 Thankfully we worked out the trick to getting it all back together again with the three eccentrically driven disks in the right phase relationship. So next we will tackle the good gearboxes!
---
Installation of Steelworks (12 Apr 2021)
The installation of the steel support structure for the new antenna plinths by one of our local companies, Jackson Steel Structures Ltd of Dundee, was completed in April. These supports have mounting holes for all 3 types of antenna we had built for Dundee and allows us to swap them around as necessary.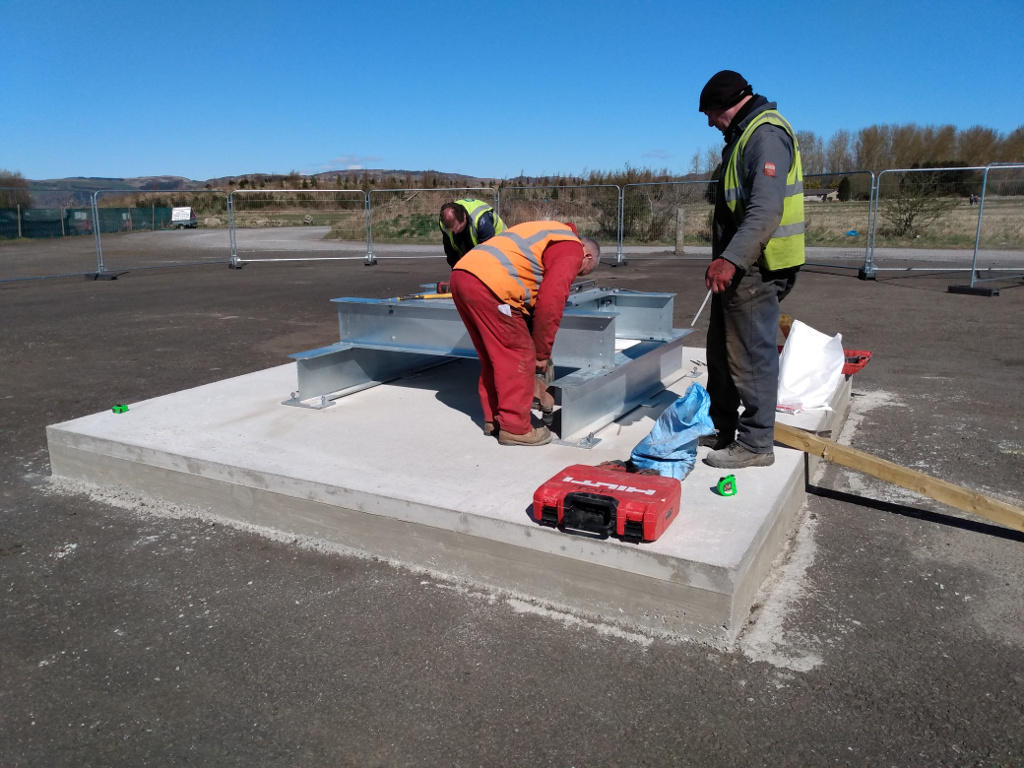 ---
Antenna Plinths poured (24 Mar 2021)
We had the concrete plinths for antennas #1 and #4 poured with the help of local builders and the concrete supplier also on the former RAF Errol airfield. We decided to make the #1 plinth larger so we can accommodate antennas up to 5m in the future and still survive 120mph wind speeds, without needing any modifications of the foundations.
The image below shows this larger #1 plinth being poured along with the 3.7m antenna (#2) that is already in operation. It is planned these next two antennas will primary be for remote sensing / environmental monitoring.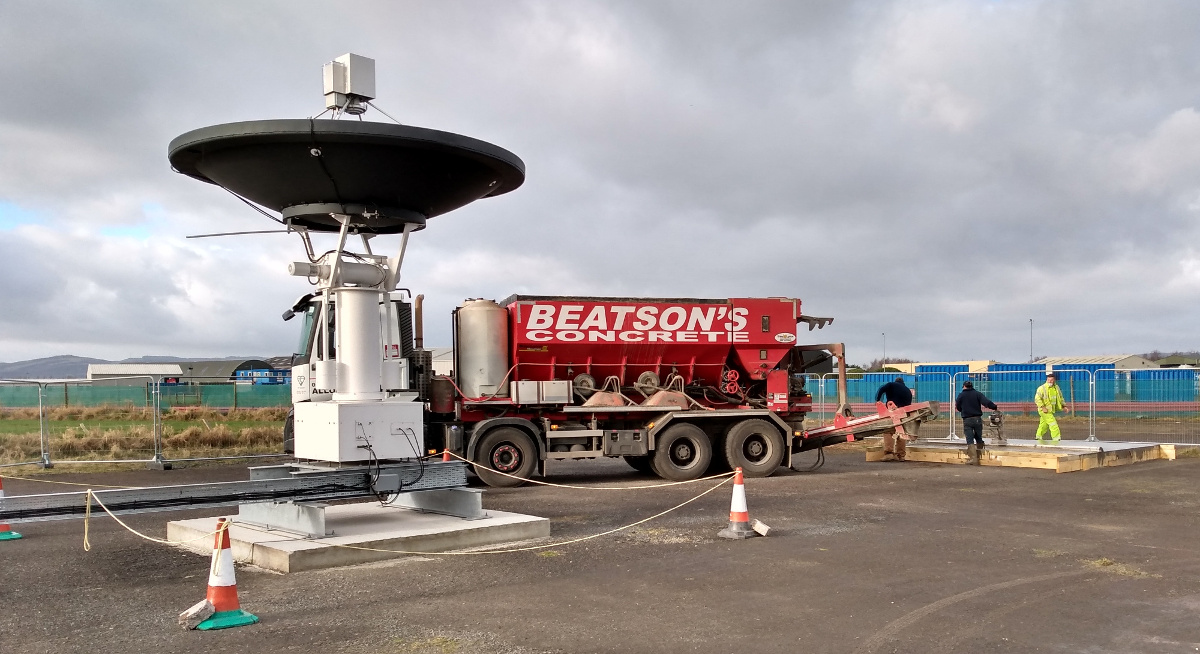 ---
Remote Sensing Images (30 Jan 2021) and Weather (08 Feb 2021)
We are now producing some
Latest Images
from the weather satellites that are updated automatically. For now this free and open service is only providing the UK "overhead" images from the NOAA and METOP series of satellites carrying the AVHRR instrument, but we hope to extend the coverage and range of image data soon.
The site also has a
local weather station
that normally updates every half hour. User Ctrl+R to refresh if needed.
NOTE: The weather station equipment is not mounted according to the
official requirements
for wind measurement height (10m / 33 feet), or distance from tarmac for temperature, so we cannot guarantee the accuracy.
---
First Overhead Pass of 2021 (01 Jan 2021)
This infra-red images was taken by NOAA-19 on a south-bound pass, overhead at 07:51 on Friday 1st Jan 2021, which we re-projected to this 1024 x 1024 sized image (with the 5 degree grid lines and coast automatically overlaid). You can also get a
4k x 4k version
which is 4MB and shows the resolution limit of the AVHRR scanner. However, it is still impressive for an instrument whose first design was flown in 1978 on the TIROS-N satellite!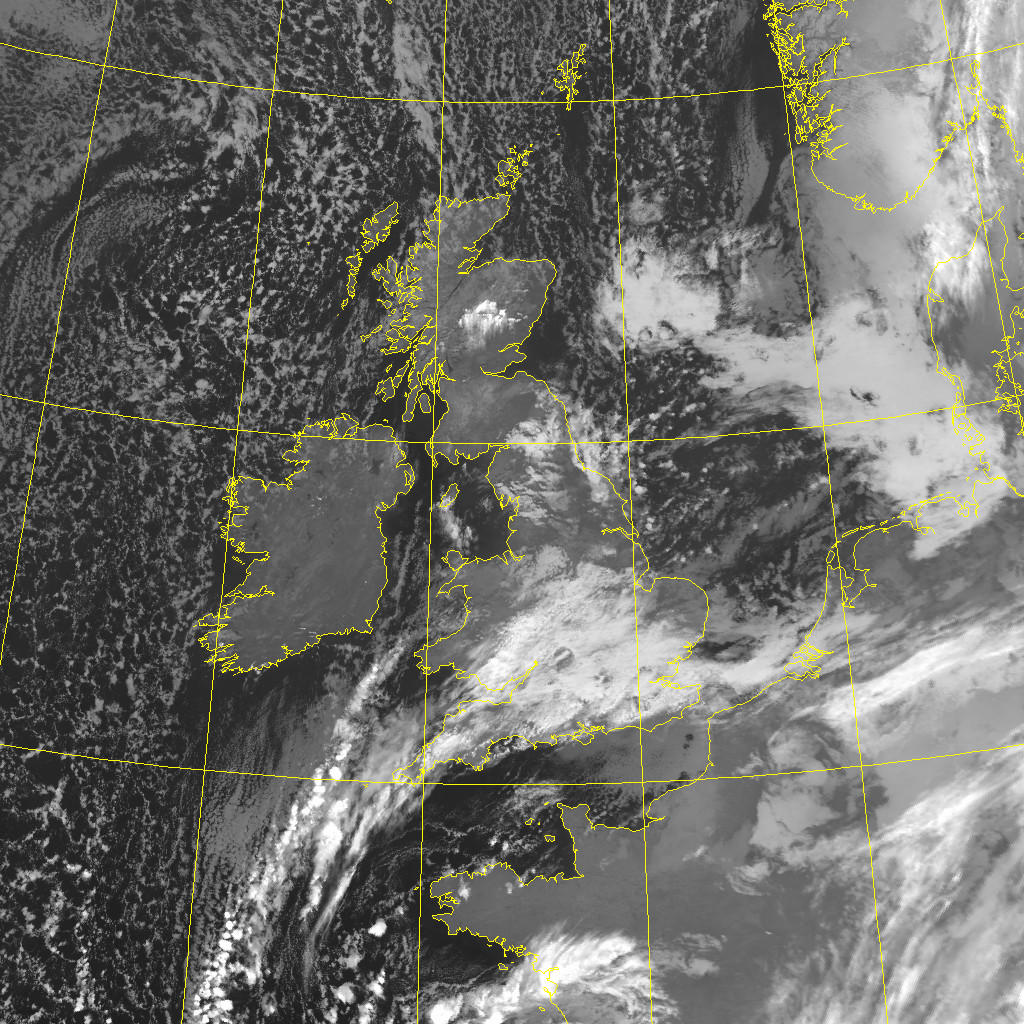 ---
Terra 21st Birthday (18 Dec 2020)
The satellite Terra was launched on the 18th Dec 1999 and today has its 21st birthday, an unusually long time for any satellite to remain in operation. While the MODIS sensor is showing some signs of degradation and it has been largely replaced by the newer NPP and NOAA-20 birds, it is still worthy of note. This quick look-image was taken around 12:03 today and shows the weather features bearing down on the UK.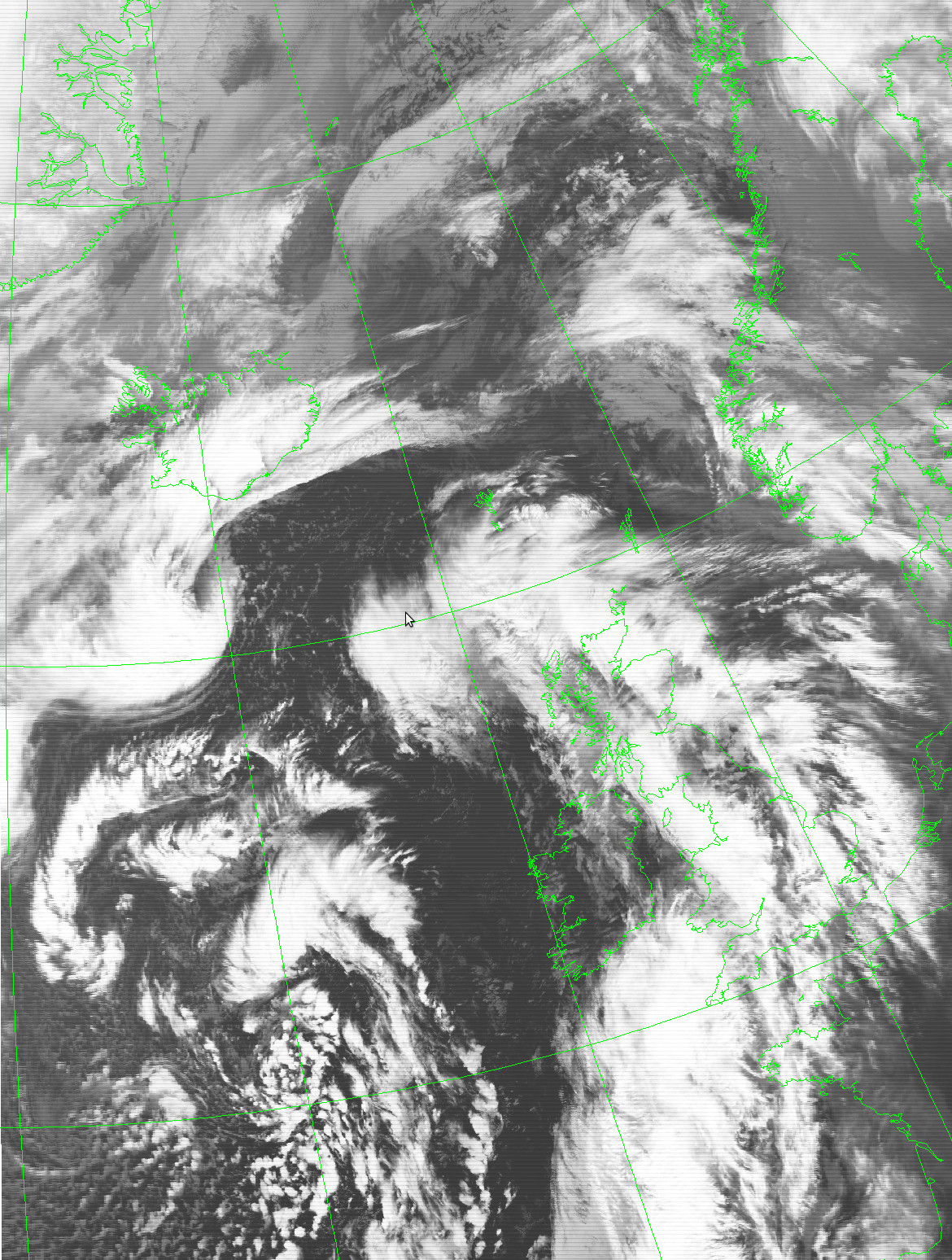 ---
Errol Antennas (03 Dec 2020)
We have got to the stage of having two tracking antennas in routine operation. Here you can see those two antennas tracking, along with those still to be refurbished and put back in to service.

---
First Pass from Errol (15 Sep 2020)
We were able to receiver our first images at the new RAF Errol site using our 3.7m antenna with the X-band feed formally used in Dundee. While we still have a long way to go to be fully operational, it is good to finally see something in return for our efforts and all of the support we have been getting.
The current 3.7m pedestal dates from 1997 (though the reflector is from 1975) and was constructed to allow DSRS to take data from the NASA EOS satellites Terra and Aqua which were eventually launched on December 18, 1999 and May 4, 2002 respectively. Both have far exceeded their planned 6 year mission life, though the sensor data is poorer now than when new.
The image was taken by the satellite Terra on a south-bound pass, starting at 11:44:19 and ending 11:58:37 UTC. What is shown below is a quick-look generated at a fraction of the satellite's full resolution.
So it is kind of fitting that the first public image taken by the new DSS Ltd should be from a satellite that the pedestal was originally built to service, and given that satellite is now almost 21 years old it is able to buy us a celebratory drink!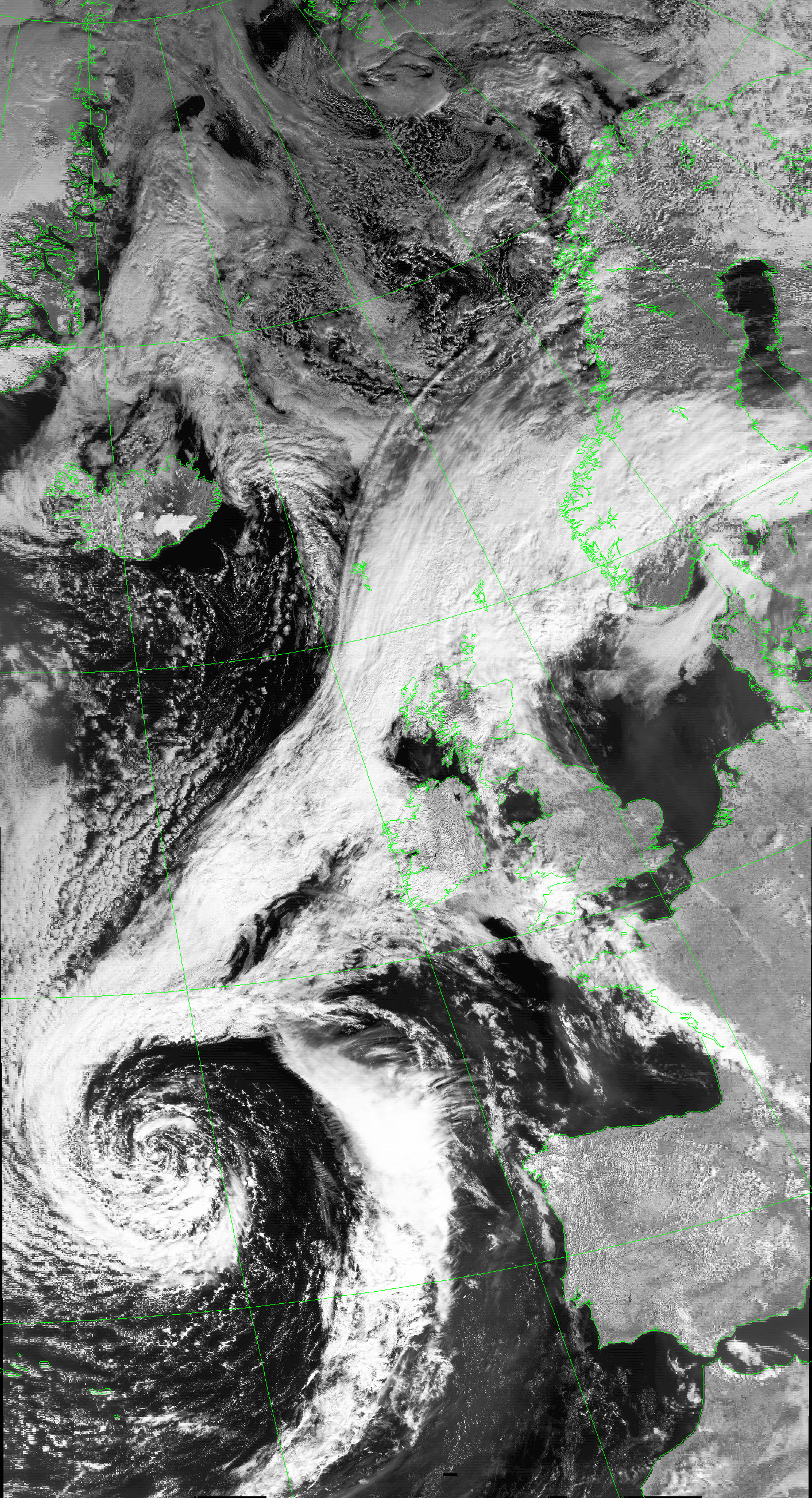 ---
DSS Ltd is one year old! (24 July 2020)
We are making progress on the new site and now have the equipment room wired for 3-phase power and hope to have antennas on concrete plinths within the next couple of weeks to allow for refurbishment and testing. There are still many small jobs to sort out and various key tasks have been delayed by the current pandemic, but we are seeing light at the end of the tunnel.
This web site, and the bigger task of resurrecting what was Scotland's only significant ground station, are still very much "work in progress" so please be patient with us!
---
Arrival of Equipment Room (20 May 2020)
We are now making good progress towards our ambition of a new and better facility. Our planning application for the new site was granted in Feb 2020 and work started end of May 2020 (delayed by the COVID-19 lock-down) with the delivery of the metal "anti-vandal site office" that will form the equipment room and on-site office space.
We are also grateful for the professional support of
Keir + Co
in the application process.